Fortunate Misfortunes: Steps Toward the Alexander Technique
by Alexander Murray, 1986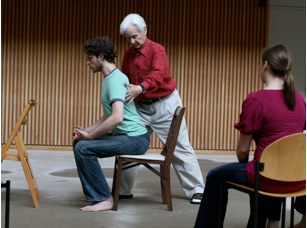 Alex Murray instructs a teacher-trainee at the Alexander Technique Center Urbana.
My career has been marked by several fortunate misfortunes which led, eventually, to discovery of the Alexander Technique. Flute playing began for me when, as an eleven-year-old, I was evacuated from war-time England and sent to live in South Africa. My first teacher, David Sandeman of the Cape Town Orchestra (later principal of the London Philharmonic) kindled an enthusiasm which was inextinguishable even by life with a positively anti-musical guardian. When we moved a year later to Johannesburg I had made enough progress to be invited to be principal flute in the Witwatersrand University Orchestra. In subsequent school holidays I played in the Durban Studio Orchestra of the South Africa Broadcasting Corporation and appeared as soloist in concerts in Cape Town, Johannesburg, and Durban.
This period represents the first stage of my musical development—the preconscious stage. I practiced assiduously, but gave no thought to how I played. I enjoyed playing. That was the beginning and end of it.
This enjoyment continued throughout the first year after the war, when I returned to London with a scholarship to the Royal College of Music. There my teacher was Robert Murchie, a great old man who taught mainly by encouragement. I passed the artist diploma exam in my first term and was solo flute in the College orchestra.
At the year's end I was drafted into the Air Force where I served in the No. 1 Regional Band. During the early part of my service I took lessons with a player whose full tone I admired. (At this time Dayton Miller's translation of Bohm's book fired me to change from a closed to open G# flute.) This was the start of the most painful stage of my development—the self-conscious stage.
My new teacher was dissatisfied with everything. I held my lips wrongly, used my tongue incorrectly, and failed to move the jaw in the way he considered right. Unable to explain why he played as he did, his only reason for changing what I was doing was, "If you want to take lessons from me you must do as I say." I did as he requested and within a few weeks collapsed with a nervous breakdown. A period of leave led to a partial recovery, and shortly after I returned to my unit we were transferred to the Far East where further flute lessons were out of the question.
During the next few years I continued practicing, but with such distaste for the results of my efforts that I could hardly credit it when I won a French Government Scholarship to study at the Paris Conservatoire. There I worked persistently at the flute, but also used the opportunity to study other subjects, including phonetics. I was intrigued to find that t in French is produced with quite a different tongue movement from the English equivalent, and that both differ from German. This being so, how could there be a right and wrong way of using the tongue? There is only an appropriate way, depending on the language in use or in the case of a wind instrument, the type of sound envisaged.
When a leading English orchestra (whose flutist was the player I had so admired) appeared in Paris, I was made aware from the comments of my contemporaries that the tone which was considered good in England was "cold" or even "disgusting" to the French.
After two years in Paris I returned to London with Premier Prix du Conservatoire. An unsuccessful B.B.C. audition as piccolist (on a borrowed instrument) was followed by success at the Royal Opera House. This lucky break was the beginning of three years of work with many famous conductors (among whom Kleiber, Kraus, and Dobrowen gave some of their last performances).
The physical strain of playing was considerable—sometimes we would rehearse for five hours during the day and play a different opera at night. At that time I was sharing an apartment with a friend, a psycho-physiologist engaged in investigating the effect of stress on the nervous system. In connection with his work at St. Thomas' Hospital he was put in touch with a teacher of the Alexander Technique. He mentioned that I might benefit from lessons in this technique. Thus began the third stage of my progress—the conscious stage.
The importance of F. Matthias Alexander's work has become more and more apparent to me from that day to this. I joined the London Symphony as first chair shortly afterwards and eleven-and-a-half years in what must have been the world's busiest orchestra were only made tolerable by what I learned from my Alexander lessons. The wisest move I ever made was to persuade my wife (ballet-mistress at the Drury Lane Theatre) to join the Teacher's Training Course.
I learned that what we do with one part of ourselves affects what goes on in the rest (in often unforeseeable ways, as I knew to my cost). We function best as a harmoniously balanced whole. The experience of coordinated activity is given directly in Alexander lessons. This experience, like music, cannot be intelligibly expressed in words. Fired by my wife's example, I too trained as an Alexander Teacher and became certified just prior to joining the faculty at Michigan State University in 1967, where, thanks to the open-mindedness and encouragement of my colleagues (notably the late Keith Stein) I was able to make good use of my experience.
Need for the Alexander Technique
All teachers are confronted with two basic problems in their students: undue nervousness or fear and poor coordination. The first may disappear as the pupil-teacher relationship develops; the second rarely does. How does the pupil pick up the musical instrument? If he is angular and awkward, how can this pattern be changed for one which is unstrained, poised, and graceful?



Alex Murray, at age 85, demonstrates agility and poise.
(This is a spontaneous postscript to his talk on
Raymond Dart and the Alexander Technique at the Freedom to Move
Conference in NYC May, 2014.)

Dr. Goldthwaite, writing in the 1940s (Body Mechanics in Health and Disease) considered that at least 80% of all American children displayed poor body mechanics. There is no reason to suppose that the last 40 years have witnessed a change for the better. A poorly coordinated student approaches playing with a non-musical problem, present before he opens his flute case.
Alexander developed his technique as the result of a long period of experimentation in search of a cure for recurrent hoarseness. This hoarseness threatened to ruin his promising career as an actor/reciter in late 19th century Australia. Alexander found that his voice failure was due to his habits of speech. In learning to change them he discovered not only the principles of stress-free vocalization, but fundamental principles underlying coordinated human functioning.
In contact with a musical instrument, we should seek not firmness of stance, but lightness and poise. We must learn to balance ourselves and our instrument in order to play in a truly dynamic manner, shaping the music gently or vigorously, applying pressure here or there according to expressive necessity.
The only information we possess as to the success or failure of our musical efforts is conveyed to us through our ears, which also house our organs of equilibrium. What greater ideal can we hold than balanced music, from balanced musicians?

Reprinted with permission of Alexander Murray. This article previously appeared in Flute Talk, May/June 1986.
About the Author
Alexander Murray is a Professor Emeritus of Flute at the University of Illinois School of Music. Formerly principal flute with Covent Garden Opera and the London Symphony, he has taught at the Royal College, Royal Academy, and Royal Northern College in England, the Royal Dutch Conservatory, Michigan State University, and the National Music Camp at Interlochen. He has recorded extensively with the London Symphony Orchestra and made solo albums for Pandora Records. Since 1959, Mr. Murray has designed flutes made by Albert Cooper and Jack Moore with advice from physicists Arthur Benade, John Coltman and Ronald Laszewski. (See The Development of the Modern Flute.) In cooperation with physicist Ronald Laszewski, he has continued to investigate the acoustics of the flute including Renaissance and Baroque instruments on which he performs regularly. The most recent experimental flute (1998) is a quarter-tone instrument, pitched a tone lower than normal (A=392). Alex Murray is Winner of First Prize, Paris Conservatoire and a founder-director of the National Flute Association. He taught and performed annually at the Oxford Flute Week at Queen's College and is principal flute in the Sinfonia da Camera.Professor Murray was the recipient of the 2015 Lifetime Achievement Award from the National Flute Associatiom.
With his wife Joan, Alex Murray was Co-Director of the Urbana Center for the Alexander Technique and trained over 100 Alexander teachers, including several flutists. The Murrays spent nine years working with Walter Carrington, who was F.M. Alexander's principal assistant. They completed their teacher training in the Alexander Technique with Walter Carrington in the early 1960s. The Murrays worked with many first generation teachers, including: Walter Carrington, Frank Pierce and Helen Jones, Patrick Macdonald, Majorie Barstow, Charles Neil, John Skinner, Peter Scott, Tony Spawforth, Richard and Elizabeth Walker, Lulie Westfelt, Kitty Wielopolska, and Peggy Williams. In collaboration with renowned anthropologist and anatomist Raymond Dart, Alex and Joan Murray have created a developmental approach to learning and teaching the Alexander Technique. Alex Murray is the editor of Skill and Poise, a collection of Raymond Dart's papers. He is also the editor of a series of booklets on the Alexander Technique and philosopher John Dewey. The Murrays are members of the Society of Teachers of the Alexander Technique. Professor Murray delivered the F.M. Alexander Memorial Lecture, "John Dewey and F. M. Alexander: 36 Years of Friendship" before the Society in 1983..
Links
Recommended Introductory Books on the Alexander Technique

The Alexander Technique: Freedom in Thought and Action by Tasha Miller and David Langstroth. Audio book is on YouTube. Audio download is available from Spotify. Nous Publishing, 2007. ISBN 9780973978629., 2007. ISBN 9780973978629. "...two writers who are so articulate and stylish, so broadly read in their subject, and so sensible in their commentary...a very healthy and much needed work." – Alex Murray

Indirect Procedures: A Musician's Guide to the Alexander Technique by Pedro de Alcantara. Foreword by Sir Colin Davis. London: Oxford University Press, 1997 edition. Available from Amazon.
Back to:
Top
The Alexander Technique for Musicians Index
Alexander Technique: The Insiders' Guide
The Alexander Technique for Musicians
Alexander Technique: The Insiders' Guide
Websites created and maintained by Marian Goldberg, MSTAT
Alexander Technique Center of Washington, D.C.